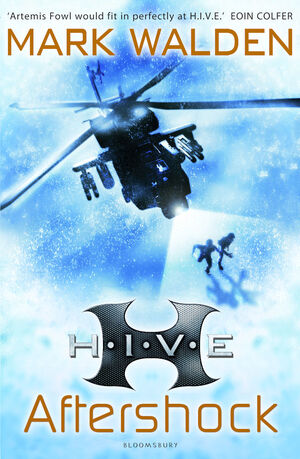 Aftershock is the seventh book in the H.I.V.E. series and is sceduled for release on September the fifth 2011
Scheming, menancing and general evilness are nothing new in the world of villainy - indeed it's expected. But there are codes of conduct.
Until now.
In an attempt to purge the Global League of Villanous Enterprises of it's more destructive elements, Dr. Nero has underestimated the cunning and resources of those who oppose him.
Meanwhile, Otto and the rest of the Alpha Stream - including several new members - are on a exercise in Siberia known as The Hunt.
But there is a traitor in their midst.
The first strike against Nero will be one against the Alpha Stream.
Villian - kind is on the brink of CIVIL WAR!
The former members of the G.L.O.V.E. ruling council are outraged at Nero 's decision to disband the whole of the ruling council and create an entire new one, so they decide to join the Disciples in a plot to sabotage the H.I.V.E. training program called the Hunt. Meanwhile, Dr. Nero has underestimated the cunning and resources of those who oppose him. Chief Dekker, the new Chief of Security at H.I.V.E. is actually a member of the Disciples (Overlord's followers), who forces Laura to find out the location of the Hunt or she will get the Disciples to kill Laura's family. Laura manages to persuade Otto and the others to help her to steal the location of the Hunt, even though they do not know what Chief Dekker had forced their friend to do.
When the Alphas set out to the Hunt, the Disciples were waiting for them. They murder fifteen Alpha students and kidnap the rest of them (including Laura, Nigel and the two new students, Tom and Penny) and they are taken to the mysterious assassin training facility called the Glasshouse by Anastasia Furan – the new leader of the Disciples and a ghostly character from Raven's past. Luckily, Otto, Wing, Shelby and Franz manage to escape and return to H.I.V.E., but Otto ends up being expelled for his part in the stealing of the location of the Hunt. Dr Nero decides to make an agreement with Otto: if he, Raven and H.I.V.E.mind can track down the Disciples, then he will be allowed to return to H.I.V.E.
(From Wikipedia)
Community content is available under
CC-BY-SA
unless otherwise noted.