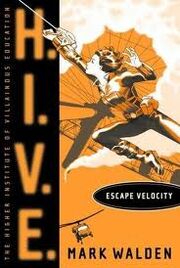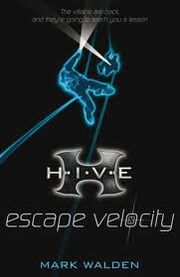 Escape Velocity is the third book in the H.I.V.E. series.
Students and staff at H.I.V.E. are shocked to discover that Dr. Nero, who has been missing for three months, has been captured by a sinister group known as H.O.P.E. the Hostile Operative Prosecution Executive.
Meanwhile in H.I.V.E. Number One has appointed a new headmistress, one who the staff and pupils thought they had seen the last of. Otto is struggling to cope with his new abilities; can he really be contecting with computers without physical contact? If so what do these new powers mean?
The only way to find Nero and the truth behind the lies is to escape from H.I.V.E. and to cope with the risks of being a rogue agent. Then all Otto has to do is break into the MI6 HQ, something that no villan has ever succeded in doing....
Nero is kidnapped by H.O.P.E., the Hostile Operative Prosecution Executive, a new anti-terrorist organisation, and the Contessa takes over H.I.V.E. as headmaster. Otto, Wing, Laura, Shelby, and Raven are forced to escape the school and join forces with Diabolus Darkdoom - Nigel's supposedly traitorous dead father - who takes charge from a massive submarine known as the Megalodon. However, it soon emerges that Overlord, inside Number One's body, is behind the entire plot. Otto is Number One's clone, designed as a perfect host body for Overlord. He only narrowly escapes being taken over, and is forced to delete H.I.V.E.mind in the process. Meanwhile, H.I.V.E. is under attack by the executioners known as the Reapers, the fights ensues as the teachers are shut out of H.I.V.E's systems, finally when all hope is lost the Contessa sacrifices herself to save the school by setting off a massive puddle of jet fuel.
(From Wikipedia)
Community content is available under
CC-BY-SA
unless otherwise noted.